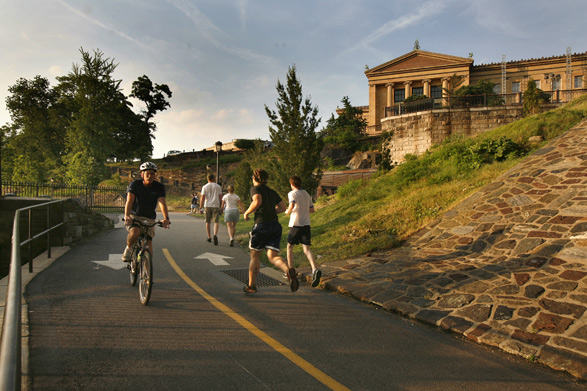 Over on the
BikePHL
Blog, the Bicycle Ambassadors are reminding us all to
remember our Trail Etiquette
.
We all need to make sure everyone is able to have an enjoyable -and safe!- trail experience by following these tips for Trail Etiquette
:
Etiquette for Cyclists
Be courteous- trails are for all users!
Keep right (except to pass)
Ring a bell or

politely

call out "on your left" when passing
Give ample room when passing, even if that involves slowing down until that is possible
Keep your speed down, enjoy the view, and keep an eye out for posted speed limits

Stay single file during busy times
Yield right-of-way to other trail users- remember that runners and pedestrians are more vulnerable trail users

Etiquette for All Users
Keep right, walk no more than two abreast
Stay alert, faster trail users need to pass
When stopped, step off the trail
Keep dogs on a leash and clean up after your dog
Share the trail; be considerate of all users
Read
more about trail etiquette
at the BikePHL blog, and offer your suggestions for other aspects of trail etiquette!
You can pick up a copy of the Bicycle Coalition's
Trail Etiquette handout
, or
download it
from our website. And don't forget to
Invite the Bicycle Ambassadors
to an event or to teach a class!